HI-POD XMobile
Shipping:
$175.00 (Fixed shipping cost)
---
Product Description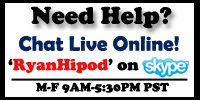 Perfect for the Press and Sports alike!
The XMobile Camera system allows the user to shoot from 17ft and reposition without having to collapse the system. This revolutionary system is sometimes referred to the "Huddle Cam" because in a practice session you can be on the field 17ft above the huddle. The XMobile is also known as the "Line-of-Scrimmage" cam because you can easily reposition the system to follow the line of scrimmage without having to bring the camera down. Never have someone block your shot because they walk in front of you. Never fear getting hit on the sidelines because you are comfortably behind all the players. Below you will find an itemized quote of what comes with your unit.
HI-POD (X5Mobile): 17 ft mobile unit upgradeable to Core X5 includes following:

1 Three Stage Telescoping Mast (17 feet) (Providing 360 degrees of rotation, 180 of tilt)

1 Nine inch LCD Screen,
1 Spring Retraction Handle Mechanism w/tilt lock & (w/ foam grip handle)
2 Cam-lock Collar Assemblies (w/inserts)
2 Velcro straps (already applied) to secure straight video/LANC cable (outside tube)
1 Adjustable LCD Bracket (Easily positioned anywhere on lower tube)
1 Tilt-Yoke-Pulleyhead Assembly (Providing 180 degrees of tilt)w/self-leveling head
2 Camera Screws w/Knurled Nut ,
1 Wheeled bottom plate w/spring-loaded stabilizing T-step
2 Thirty foot pre-stretched ropes (for handle mechanism)
1 Video/LANC Cable (w/ video & audio in & 1 LANC in)- velcroed to outside of tubes
1 LANC pigtail, 1 Sony LANC controller)
1 twelve volt 8.0 amp/hr battery pack , 1 Sun Visor
1 battery charger w/cigarrette lighter plug
1 coiled battery-to-LCD monitor cable (for power & video signal)
1 Foam-lined Hard case (cut to fit HI-POD Accessories)
1 Telescoping case for HI-POD TUBES, Rain Gear (Cam, LCD, battery, controller)
---
Find Similar Products by Category
---
Customers Who Viewed This Product Also Viewed