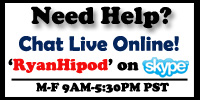 Note: HD DVD's require Blu-Ray player with AVCHD Compatibility.
If watching on computer...
Window PC: Download "Splash"
(Windows XP may not recognize M2TS File files [this video file type] depending on the version.  You will need Vista or Windows 7)

http://mirillis.com/splash.html
Apple Macintosh: Download "VLC"
(View Mac Video Tutorial Here)
All US Soccer Development Academy Games for the Sarasota Summer Showcase will be available here. Select the game according to day, time, and field. Then select whether you want the DVD in High Definition or in Standard Definition. Notice the SKU # when you select. This SKU # should match with the Game number issued by US Soccer. If you want a HD dvd, the sku number will have HD at the end of the number. Each Game should have a unique number.
For added convenience we have included a PDF of the games for you to examine before purchasing. This PDF will have a complete list of game information (BUT GAMES CAN CHANGE) We will try to update the PDF but to be safe, enter as much info into the Teams Playing field as possible.